What Types Of Oils Are Used In Massage Therapy?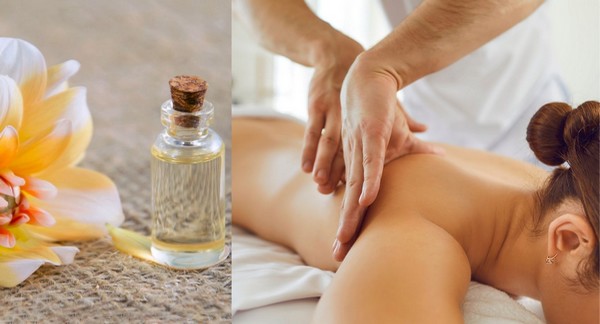 ---
Sweet Almond Oil - this oil is one of the most used carrier oils in aromatherapy massage, and this is understandable as it has fine texture which helps to leave the skin soft and satiny smooth yet it is non-greasy. Almond oil is lubricating but not penetrating oil, which makes it excellent protect and highly used in massage therapy. Sweet almond oil is widely used in cosmetics and body products for its rich properties such as Vitamin A, B1, B6, D, linoleic acid and minerals. Sweet almond oil is especially suited for dry, sensitive and irritated skin. It is softening, nourishing and revitalising to the skin.
Olive Oil - contains high level of essential fatty acids, alpha linolenic acid, antioxidants, vitamin A, E and when applied externally calms the sore and inflamed skin. Olive oil can be used as a remedy for arthritis when rubbed onto the effected parts regularly.
Olive oil massage improves blood circulation and hydrates, moisturizes and smoothen skin, helps in reducing stretch marks, slows down skin aging by maintaining skin elasticity and firmness.
Sweet Orange Essential Oil - is fantastic for so many reasons. It has a lovely sweet smell and warm happy feelings. It is calming for the digestive system when used in aromatherapy and can help with colds, flu and when added to a massage carrier oil is great for the skin.
Lavender Essential Oil - has a calming aroma which makes it an excellent nerve tonic. It aids in treating migraines, headaches, anxiety, depression, nervous tension and emotional stress. A regular massage with Lavender essential oil provides relief from pain.
Search Masseuses Near You.
---
---
More From Our Blog